Pound is just what music, fitness and dance lovers have been calling for! From November 2020, Moka'mwad will give you the opportunity to discover this innovative and ultra-dynamic sport discipline – free of charge!
Fitness enthusiasts looking for high intensity classes will certainly fall in love with Pound, a sport that comes directly from the USA.
This complete and intense workout was invented in 2011 by two Californian women with a passion for sports and percussion. Pound is a mix of cardio and muscle training, as well as yoga- and Pilates-inspired movements, with a pair of Ripstix to drum to the rhythm of rock music! These lightly weighted exercise drumsticks are central to the concept; each body movement is punctuated by pounding them on the ground or against each other to the beat of the music. A great way to bring out the drummer in you!
These Pound classes are open to all and will inspire those who want to give their best with a great combination of exercise and fun! The discipline also has various benefits: it not only helps burn calories (up to 900 kcal in an hour), but also improves your coordination, tones up your figure, releases all your tension and strengthens your heart and lungs. What more could you ask for?
Music, sport, fun!
Coach Karen Ah-Thien is delighted to share her passion for Pound and invites all people of Moka and the surroundings to come and discover this discipline. "Pound is so much more than a simple workout; it is above all the best way to unleash the rock star within you, to train your body while releasing your stress and to push your limits in a fun way. It's also a great way to do 600 squats in an hour without even realising it!" she says.
Karen holds Pound Pro and Generation Pound Pro certification from South Africa and has worked as a coach in Europe. She is also a graduate in psychology and knows the importance of taking care of yourself – physically, mentally and emotionally. She hopes that Pound will help participants let go, increase their self-awareness and like themselves as they are.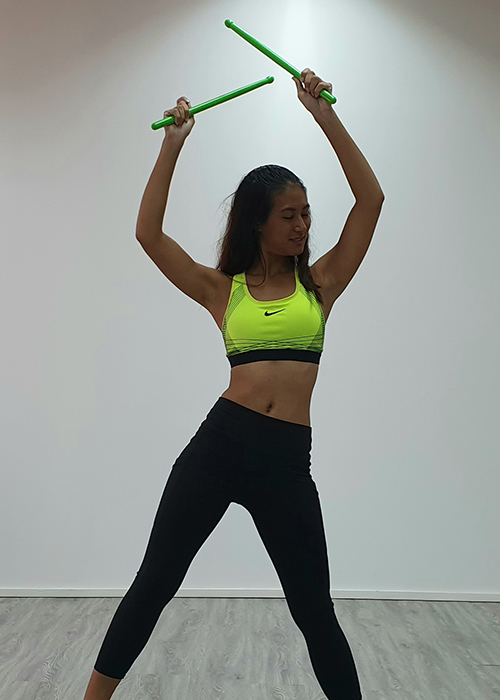 "In addition to Zumba classes and the Kids Gym, the Moka'mwad collective is reiterating its commitment to improving the quality of life of the people of Moka with this new complimentary sports activity at the Telfair amphitheatre," says the Moka'mwad collective's manager, Ketty Lim Ka Lan.
So, are you ready to add a little more "umph" to your sports sessions?
Practical information
From 4 November 2020, outdoor Pound sessions will take place at the Telfair amphitheatre between 5.30pm and 6.30pm on Wednesdays (except in case of bad weather or on public holidays). Participants must be at least 16 years of age. Places for each session are limited, with compulsory advance registration at mokamwad.mu
Don't forget to bring a comfortable sports outfit, a yoga mat, a towel and a large bottle of water. Bring your good mood and your "Ringo Starr attitude" too!