Is it possible to climb up and down Le Pouce Mountain 16 times in 24 hours? Giovanni Vadamootoo aka Giovanni Hope has proved that yes, it is possible. The Mauritian athlete shares his adventure on higher ground and tells us about his passion for trail running.
Endurance test
Giovanni Hope literally knew nothing about trail running until five years ago. He and his friends challenged themselves at a party in 2015 to take part in the Trail de La Ferme (11km). A few months later, he had officially been hit by trail running fever and hasn't stopped since then. He has competed in a number of events from the Grand Raid de La Réunion to the Heritage Trail, the Dodo Trail, La Mascareignes and the Bourbon Trail.
He has a preference for long-distance races. "I love running in nature. Long-distance running allows you to spend more time in the outdoors on less crowded trails," he says. He actually moved from Floreal to Moka two years ago to be closer to his office, but especially to nature and its trails. "I feel spoiled here!"
Now, fast forward to 2020. "During lockdown, I could see Le Pouce from my window every day. I had only one thing in mind when we were allowed out again: enjoy it like never before!" That is how the "Pouce en Lèr" initiative took life.
"Thumbs up for Le Pouce!"
At 5:35 pm on Friday 31 July, Giovanni reached the parking area at Petit Verger – with all the necessary equipment, of course! About a dozen friends joined him in taking part in "Pouce en Lèr", including familiar names on the local trail running scene like Jean Will Smith (Ultra Trail du Mont Blanc), Jean Rex and Percy Driver.
Percy spent two years preparing for the Tor des Géants in France, which he entered in support of Link to Life association. With the cancellation of the race, I thought he would be happy to take part in this challenge.
He knows that it takes 40 minutes to climb up and down Le Pouce, without taking account of accumulated fatigue. He therefore set a realistic goal of one and a half hours per climb, representing 16 climbs or 67.72km and 6,912 m of elevation gain. He emphasises that "Pouce en Lèr" was mainly designed as an enjoyable social run. "I really trusted my gut feeling."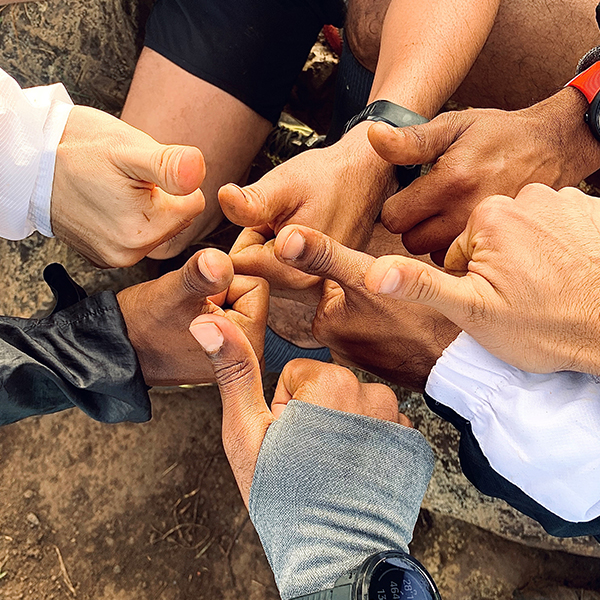 Giovanni and his friends did it, even if it was a bit cold and windy at night. After all, he is familiar with such conditions after participating in the Grand Raid in cold and foggy weather!
An all-rounder
When he's not running, he's working. Giovanni is currently the Creative Director of a dubbing studio located in Moka after serving as a guide for Vertical World – a job that allowed him to gain in-depth experience in hiking and abseiling techniques.
You might also know him for his artistic talent: Giovanni is a slam artist who gives writing workshops at the French Institute of Mauritius (IFM), for the Ministry of Arts and Culture and across the Indian Ocean. "I never get tired of learning! I started trail running from scratch. Today, I can run 20km without drinking water or feeling tired. Trail running helps me unwind, it's a true moment of freedom. I hope to inspire people through my events and the videos I shoot during my races. Sharing my passion for the mountains is my priority."
Follow the adventures of Giovanni and his group on their Facebook page, Track your Freedom.