The celebration this year of the tenth anniversary of Les Allées d'Helvétia gives us an opportunity to look back at the strengths that allowed – and continue to support – the success of this neighbourhood!
Work at Les Allées d'Helvétia began in 2008 and the first phase was completed in 2010. This was followed by the inauguration of sports and shopping centres in 2011, and the neighbourhood has continued to grow until today – time flies! Les Allées d'Helvétia has become a perfect example of the Live-Work-Play concept: this village in the heart of a dynamic region has become the preferred place for families looking for a convenient and pleasant daily life. It consists of three residential phases (178 apartments and duplexes), a sports centre with 4 tennis courts and 2 swimming pools (including one 25m heated pool), three schools (nursery, primary and secondary), a shopping centre with a supermarket and 12 other outlets as well as a wellness centre with more than 15 therapists. Overall, nearly 5,000 people visit the different areas every day, or 110,000 people monthly!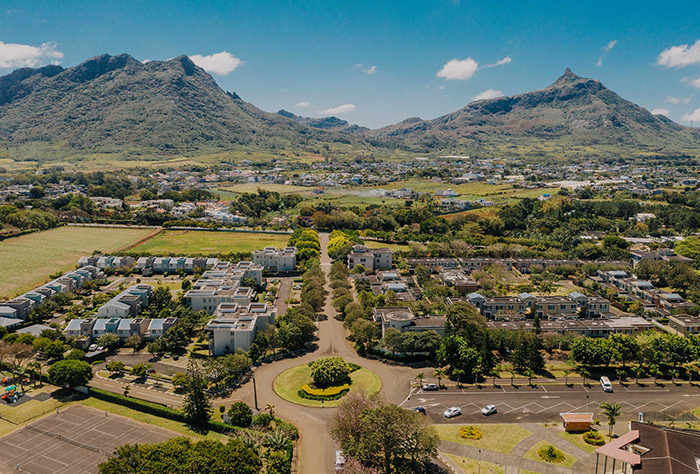 Beautiful views of the Moka mountain range, a peaceful setting and a central location have been significant factors in its success. Yet when work began 10 years ago, it was one of the first steps towards the planned, long-term development of Moka. Such a project therefore required not only the expertise of its developer, ENL Property to prepare the master plan, but also the support of the very first buyers to achieve the Group's great vision!
This vision is illustrated by a set of important pillars that have helped bring to life the neighbourhoods of the Moka region: integrated planning, building quality infrastructure in an authentic, elegant style, offering sustainable and environmentally friendly buildings, and shaping a connected city that encourages soft mobility. "We have the vision of a smart and sustainable city which develops in direct response to the needs of residents and everyday users. For 10 years now, it has been exciting to see each of our new residents take ownership of the city and bring a new definition of the Moka of tomorrow. We are proud of what Les Allées d'Helvétia has become, and look forward to witnessing a similar scenario in our developing neighbourhoods," says Moka Smart City's General Manager, Samuel de Gersigny.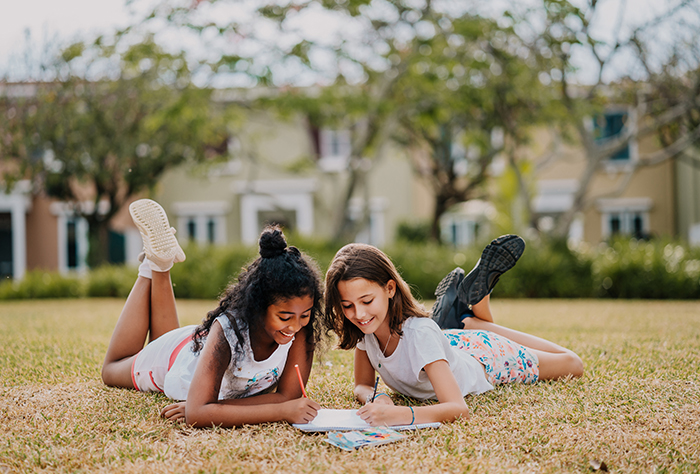 Les Allées d'Helvétia reflects ENL's vision in every respect: combining residential areas with public spaces, the area offers a quality living environment with beautifully landscaped private and common gardens connected to each other by roads and unobstructed pedestrian walkways. Close to the schools, there are cafés and all kinds of amenities, a voluntary drop-off point for sorting recyclable waste, the Synergy Sport & Wellness Institute, a 24/7 bike park with free access for everyone and a supermarket. And you don't need a car to get there – everything is within walking distance!
It has become an integral part of the Helvétia neighbourhood, which includes a new residential offer, the apartments, duplexes and land plots at Les Promenades d'Helvétia – which have already been partly delivered – and the Promenade, Moka Smart City's soft mobility linear park, which will ultimately connect its various areas.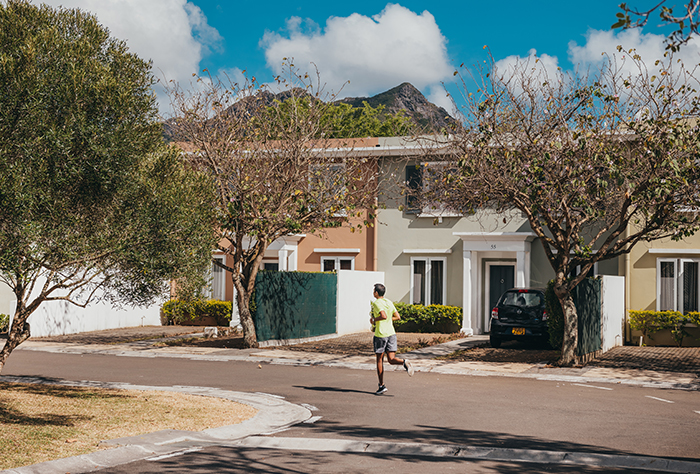 Many other planned projects will continue to grow the smart city's offer: a motorised traffic route between Telfair and Helvétia along the Promenade; residences, the "Carrefour du Pouce" with a kids corner; a major sports centre, Moka Sports Club; the future Martial Noël Park, etc. Moka Smart City will continue to make daily life more pleasant and convenient for residents!
"I found all I needed in this neighbourhood because everything was within easy reach for me and my family. In addition to the nearby schools and shops, living there allows me to get to work within minutes and even go back home for lunch from time to time. It shows that there has been a lot of thinking going on to promote sustainable development in Moka. There is no doubt that Les Allées d'Helvétia has everything need for a fulfilling family life."

Vincent Dumée-Duval, one of the first residents of Les Allées d'Helvétia
"We now have a loyal customer base. Some of them sometimes use their lunch break to go to the hairdresser or simply visit us to greet and have a chat with us. Les Allées shopping centre has everything that local residents and employees need. It is a real pleasure to work in this lively neighbourhood every day."

Fabiola Appadoo, owner, Espace Coiffure
"I found everything I was looking for here: a modern and advanced gym, a heated pool and friendly coaches who are always ready to guide me. The quiet and discipline that prevail are a source of motivation, and the new friends I have made here have become like a second family to me. I have been a member for 10 years and I intend to stay for another 10 years!"

Shahbaaz Toorbuth, member, Synergy Sport & Wellness Institute