The Moka Shuttle is a new private shuttle service that enables people working at Vivéa Business Park to travel easily and quickly between home and work.
The Moka Shuttle is back after serving the Telfair area for four months! This private shuttle service offered by Moka Smart City has launched a new route exclusively dedicated to those working at Vivéa Business Park: the Moka Shuttle has been connecting them from the Upper Plaines Wilhems (Vacoas or Curepipe) to their workplace every morning and evening since 3 November 2020.
But that's not all – people working at Vivéa Business Park can also take the lunchtime shuttle to Bagatelle Mall. A great place to get lunch or indulge in some window shopping!
Moka Shuttle: efficient and comfortable service
The 28-seat Moka Shuttle is already used by seven people to get to or from their workplace at Vivéa Business Park faster – giving them a time-saving and more comfortable option every day.
So forget about interminable public transport trips, the fatigue and stress of driving and over-consumption of fuel!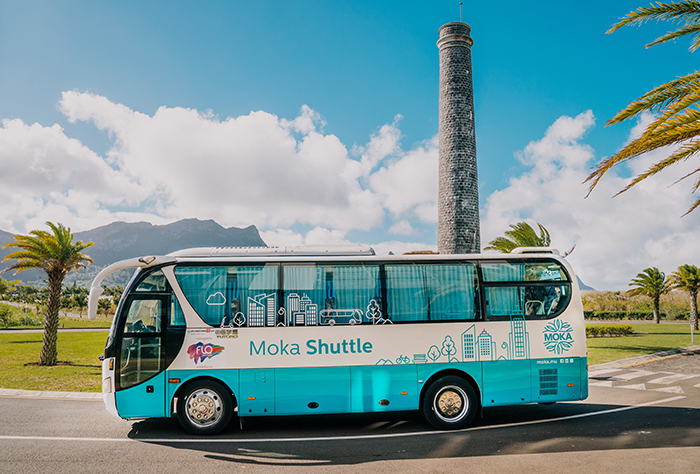 Moka is improving soft mobility within the city with the introduction of this shuttle. "The aim is to encourage employees to adopt this enjoyable means of travel, which optimises the commuting experience while reducing road traffic and our carbon footprint," says Moka Smart City's Business Development Manager, Olaf Boullé. The shuttle will initially operate on a trial basis until late February 2021.
Many other projects should be launched soon within the smart city, including public transport, electric bikes and scooters. Stay tuned!
Practical information
If you work at Vivéa Business Park, don't wait any longer and get on the Moka Shuttle right now!
The shuttle runs from Monday to Friday:
Monthly fare of Rs 900/person.
For booking requests, please contact Olaf Boullé: [email protected]
The fare for the weekday lunchtime trip between Bagatelle Mall and Vivéa Business Park only: Rs 30 for the return journey (tickets on sale at ENL House and the Turbine).