Are you an artist-living in Mauritius? Are you looking for a centrally located (and subsidised!) studio that promotes creation and interaction with other artists like you? La Kocotte artistique in Moka is looking for its next residents! Here's everything you need to know before sending your application.
About Les Kocottes
Les Kocottes consists of former poultry houses that have been converted into a lively place for art practices, citizens' and educational initiatives, eco-friendly activities, learning and social bonding. "We wanted to create favourable working conditions for owners of such projects and give them opportunities to work with the city's stakeholders," says Moka Smart City's Business Development Manager, Olaf Boullé.
Les Kocottes consists of 6 former 180m² poultry houses, 5 small houses of 62m² each and 10,000m² of outdoor common space with direct access to the future Promenade in Moka.
Then, what is La Kocotte artistique about?
One of the former poultry houses will be converted to accommodate artists' studios in the coming months. It seemed only natural to name it La Kocotte artistique.
La Kocotte artistique's studios will be occupied for a one-year term – renewable for another year – by artists selected following the current call for interest. Subsidies on the monthly rent – which varies between Rs 5,500 and Rs 8,250 including tax – will be granted to these artists by Moka Smart City, depending on the studio. They will be able to apply for one or two studios, or two of them may share a studio.
The five studios with a surface area of 22m² to 33m² have access to running water and electricity. The 45m² shared space where artists can relax, interact and have meals has a kitchenette and sanitary facilities. Finally, the rental fee includes one parking space per studio, management fees, common area maintenance and security (but excludes water and electricity charges as well as Internet connection, among others).
Do the artists have any responsibility in return for the subsidised rent?
La Kocotte artistique has been designed to provide continued support to local creation in all its wealth and diversity. The long-term ambition is to add value to the creative and cultural industries in Mauritius through the dissemination of creations and raising public awareness of art practice.
So yes, the artists must agree to give priority to the presentation of their works in the city, for example through exhibiting an artwork in the public space of Moka Smart City once a year. They must also participate in organising and holding at least four workshops per year for children and/or residents of Moka. Finally, they must allow access to their studios to the public on certain occasions and be receptive to proposals for collaboration from the city or its stakeholders.
Artists can also organise events and exhibitions at La Kocotte artistique – and they will be encouraged to do so!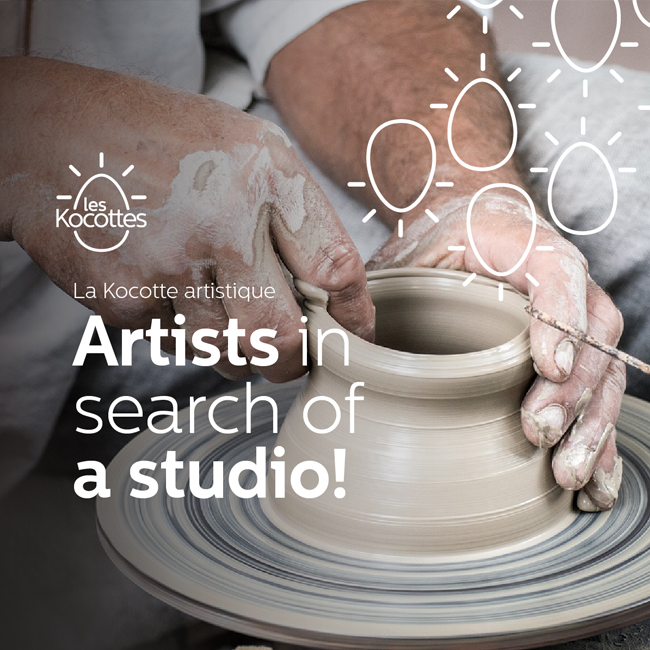 Who can apply?
Amateur artists, artists in the process of professionalisation, aspiring or confirmed professionals in visual arts (cinema, video art, digital art, drawing, illustrations, graphics, comic strips, lithography, mosaic, painting, photography, creations, sculpture or screen printing) or applied arts (fashion, design).
What are the selection criteria?
The committee consists of creative professionals and representatives of Moka Smart City and the Moka'mwad citizens' collective. Beyond your artistic practice, you must be motivated to interact with different audiences in the city and make a positive contribution to the promotion of artistic creation in Moka.
How to apply?
Your application must include a portfolio, a letter of intention, a curriculum vitae, a copy of an official identity document and your completed application form.
"This is an innovative artistic residency concept combining various art forms in Mauritius, especially with the large shared area that will hopefully help create the magic. I can't wait to see the first works come out of La Kocotte artistique and witness the interaction with the users of the five other Kocottes. In any case, the location in the heart of Moka Smart City is great and the future looks bright," says Olaf Boullé. It's up to you now!
Fill up the below form to receive the call for interest document