Here's some excellent news for businesses located within the Telfair precinct: a private shuttle bus will enhance their employees' mobility across the heart of the island!
Moka Smart City is offering as from 13 July 2020 a new service designed exclusively for companies operating in Telfair: a private shuttle to and from Bagatelle Mall in partnership with Rose Hill Transport.
The 30-seat shuttle runs in both directions between Bagatelle Mall, the Moka roundabout and Telfair Square. It provides access to the region's hot spots as well as the well-served bus stops at Bagatelle and near Mahatma Gandhi Institute. The shuttle operates every 20 minutes during pre-defined time slots (7.30am-9am, 11.30am-2pm and 4pm-6pm) from Monday to Friday, providing people working in Telfair with greater comfort and freedom of movement.
This new service confers significant advantages to the latter: it is a faster and more pleasant means of transportation to reach their workplace, without having to take a second public bus from Bagatelle or walk to the office from the MGI bus stop! And at lunchtime, they can reach Bagatelle Mall within about ten minutes. It is ideal for a lunch break with colleagues or to shop for household groceries before the end of the day!
"Some office owners and tenants in the Telfair area wanted a better public transport service to save their employees walking time from the existing bus stops," says Moka Smart City's Business Development Manager, Olaf Boullé.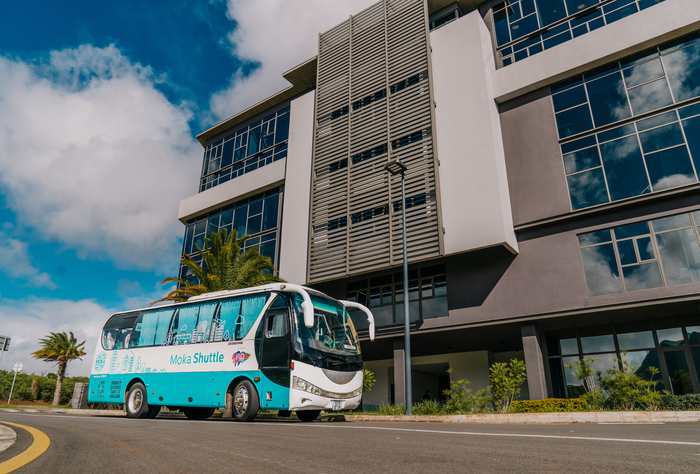 This beautiful initiative therefore meets the expectations of companies already established in Telfair. After a two-month pilot phase, the shuttle service will be extended in case of success – pending connection to the public transport network. PwC's head office employees and those from other companies in The Dot building should be among the first to enjoy this new service!
Telfair is strategically located with three access points, including two from A7 Road and one from the Saint Pierre Bypass Road. Moka Smart City's future city centre is also in immediate proximity to M1 and M3 motorways. The Promenade with its pedestrian and cycle tracks now connects Telfair – which already has various roadways, public spaces and an amphitheatre – to the lively neighbourhood of Helvetia. The precinct will ultimately comprise harmonious and environmentally friendly buildings accommodating a number of everyday conveniences and services, education and health hubs as well as a cultural area.