To gather, under one roof, a multidisciplinary team specialising in therapeutic support: such is the goal of the Up Together centre in Moka.
A multidisciplinary approach to care
In 2018, a beautiful house surrounded by greenery was refurbished in Moka to welcome the patients of Up Together in a calm, soothing and respectful atmosphere. The uniqueness of this group of health professionals? Placing people at the heart of a multidisciplinary approach to maximise the effectiveness of medical support.
Indeed, the diverse therapists who work at Up Together offer complementary disciplines and areas of expertise. Psychologists, neuropsychologists, occupational therapists and speech-language pathologists work side by side; but beyond merely sharing a workspace, they also get together every Tuesday to discuss their patients—more specifically, cases in which their disciplines intersect, such as learning disabilities. The psychologists, for their part, also meet once a week to exchange notes* on the psychotherapeutic cases they work on together.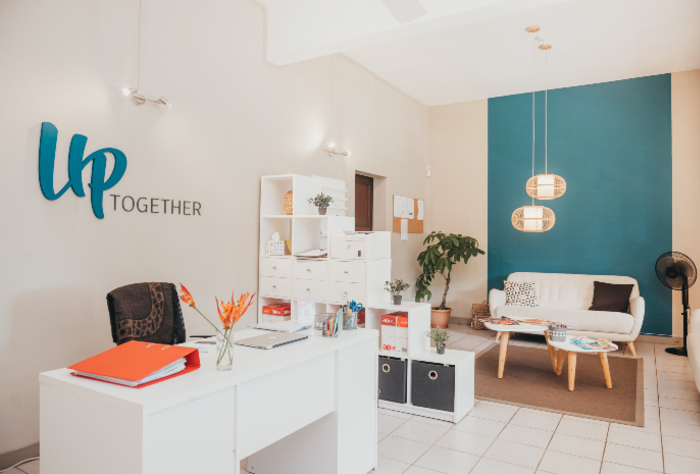 Professional support at any age
Until today, the group only dealt with children and adolescents. "We would now like to extend our services to adults because we realised that parents suffer in equal measure," explain Fiona Kau and Elise Koenig, psychologists and directors of the centre.
It is important to note that a first meeting is not binding. If you are suffering, or suspect that your child may be suffering, do not wait until the situation worsens. Establishing contact with Up Together is extremely easy: simply fill out a patient card and send it back to them so the team can point you towards a referring therapist.
How does it work?
The first consultation with your referring therapist aims to explore the many aspects of your personal journey and to determine your needs—or those of your child.
"We ask questions pertaining to the course of your life and your general development, and we pay special attention to psycho-emotional, motor and linguistic skills," explains Fiona.
Your therapist then meets with the rest of the team, and together, they agree on the most appropriate form of support. Should you wish to accept the recommendations made, a support programme is set up with one or several therapists, depending on the need. It usually involves frequent follow-ups and evaluation sessions to draw a comprehensive assessment report. Elise specifies that "the assessment report isn't mandatory: we would rather focus on the patient's current needs." When it involves a child, the therapist is also willing to visit his or her school for an in-situ observation.
Last but not least, Up Together also occasionally organises support groups, open to all. A first support group gathered to discuss highly gifted children—or even premature children—and the centre collaborated with an art-therapist to offer support to children and teenagers through an art-as-therapy approach.
Follow the Facebook page of Up Together for more information.
Up Together
House No 1, MDA Round About
Saint-Pierre
T : (+230) 434 1313
—
*Up Together respects your choices : When filling in your patient card, you may choose to not authorise your referring therapist to discuss your case (or your child's case) with the rest of the team. However, should you consent to it, please be aware that the team is committed to protecting your confidentiality and that only the relevant points—those that demand the attention of several therapists—are brought up during meetings.